Vancouver, BC – September 6, 2023 – Etruscus Resources Corp. (CSE: ETR) (OTC: ETRUF) (FSE:ERR) (the "Company" or "Etruscus") is pleased to announce additional staking at the Company's 100% owned Rock & Roll Property (or "Property") located in the prolific Golden Triangle in northwestern British Columbia, Canada. Adjacent to the Rock & Roll property, the 16 contiguous "Pheno" claims were staked following a technical review of a government rock sampling program that had taken place over the prospective terrain in 2012. The historic results from the program produced elevated rare earth element (or "REE") assays that are comparable to known REE deposits in North America.
Stephen Wetherup, Etruscus' VP of Exploration commented, "These recently staked claims, located immediately to the north of the Rock & Roll property, offer a unique opportunity to expand our target pipeline. Rare earth elements are receiving attention lately due to the newly adopted critical metals strategy from the Canadian government, and now Etruscus has become part of that story with minimal effort and without losing focus on our newly identified porphyry targets at Discovery and Kashmir."
Highlights
The newly staked Pheno claims cover an area of approximately 5 km x 14 km and were staked due to highly anomalous REE tenors returned from random rock sampling during a program of BC government reconnaissance mapping. (See Figure 2 Below for Claims Map or Click Here to View Map);
Rhyolites sampled on the Pheno claims returned assays comparable to the inferred resource grades at Round Top Mountain, a bulk-tonnage REE deposit in Texas, USA (See figure 1 below or Click Here to View Table);
Staking costs and existing infrastructure provide an efficient way to add this critical mineral opportunity to the Company; and
The contiguous nature of the Pheno claims allows us to concurrently work on advancing key Rock & Roll targets for gold, copper and molybdenum.
Figure 1. – High Priority REEs Comparison Chart and Table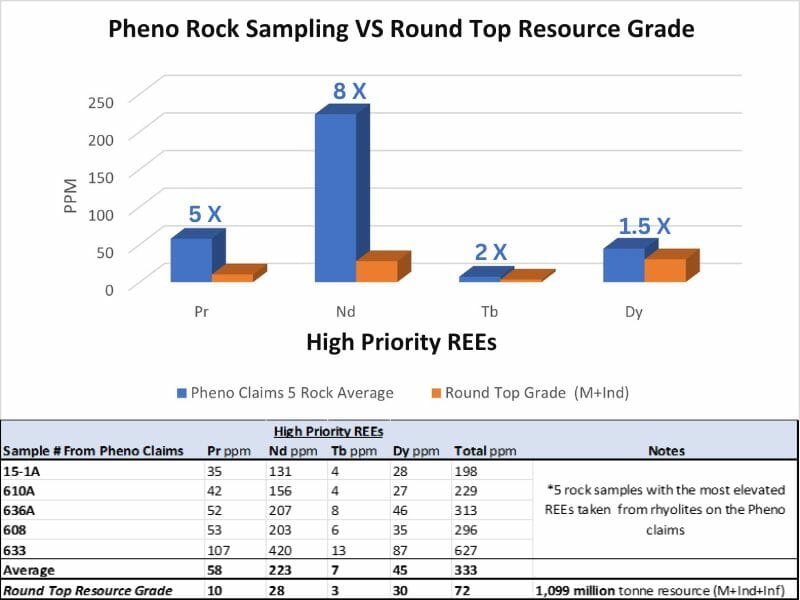 Comparison of Round Top Resource Grade with the five most anomalous rock samples from the Pheno claims. The 4 REEs used for comparison are of high importance due to their demand in electronics and green energy production. *This comparison is to illustrate the significance of REE analytical values from a small number of individual rock samples collected on the Pheno Claims and does not suggest the claims have been shown to contain resources of these grades nor that mineralogy is similar to those described in the Round Top Mountain PEA.
Historic Sampling
In 2011, the BC geological survey took 18 rock samples across an area that sits within the new claim group. The purpose of this sampling program was the classification of various volcanic and hypabyssal rocks found in the area. Geochemical assays revealed significantly elevated REEs taken from Neogene peralkaline volcanic rocks with a number of the samples returning between 0.1% total rare earth oxide (or "TREO") and 0.36% TREO. Elevated samples were mainly taken from rhyolite and the related quartz-feldspar-porphyry dikes that are likely coeval with the rhyolite volcanism.
The Potential
Peralkaline rhyolite rocks, like the ones identified at the Pheno claims, are a relatively new exploration target for REEs and provides a much larger area of prospective ground when compared to the smaller and more common carbonatite hosted REE deposit. ETR is excited to be the first company to explore such a large, prospective package of rocks with highly anomalous REE tenors. The author of the paper from which the original information is sourced states, "For random samples collected over a ~20 km2 area, with no expectation of elevated REEs, the analyses are encouraging, and further sampling is warranted". (Zagorevski, 2013). As yet, this area has seen no such sampling.
Figure 2. – Map of new Pheno Claims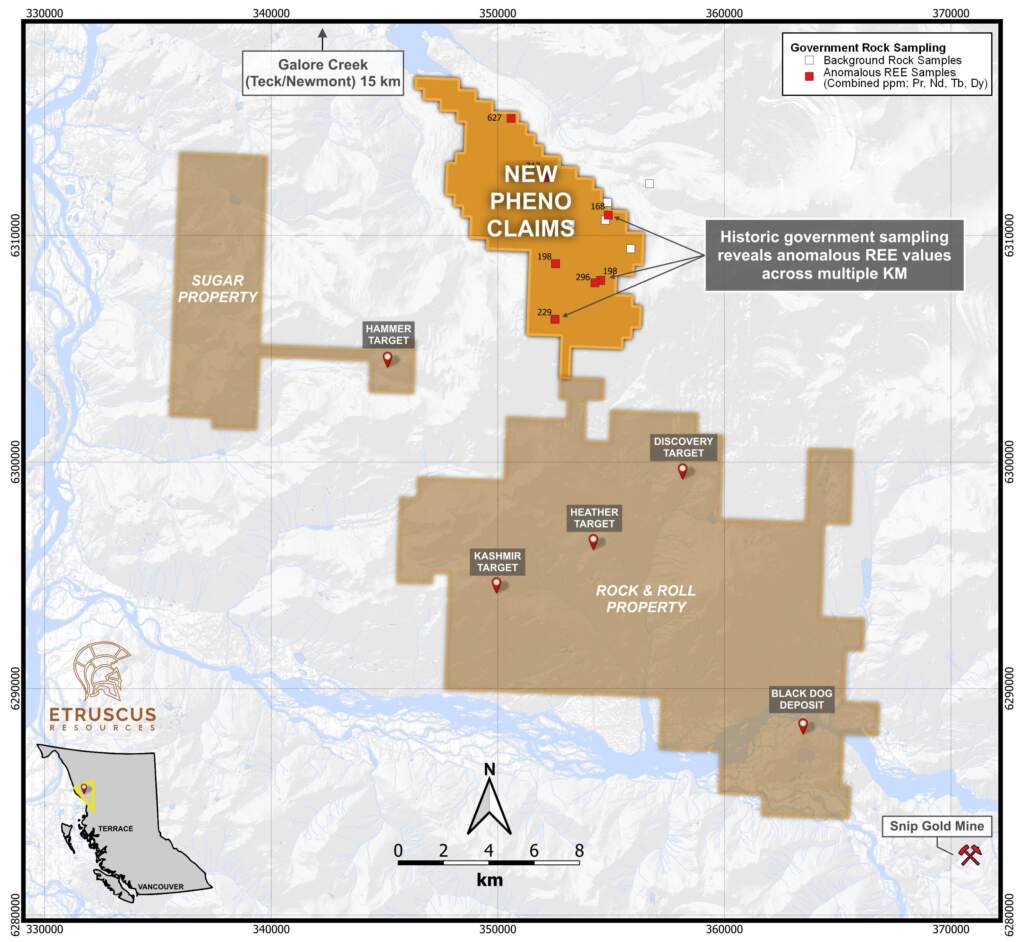 2023 Exploration Season
The team is planning a late season exploration program to complete a first pass rock sampling program across the Pheno claims. The Company would also like to complete IP lines at the Discovery Target as well as follow up work on the newly emerging Kashmir and Heather targets. The initial induced polarization ("IP") survey from 2022 has demonstrated a large chargeability anomaly at the Discovery Target that sits below a strong alteration assemblage indicative of porphyry mineralization.
What are Rare Earth Elements?
Rare earth elements consist of a grouping of 17 individual elements that are often concentrated in extensional alkalic environments with a high degree of magmatic fractionation. This group of elements is on the Canadian governments list of the 6 most important critical minerals that are used for many purposes, including electronics, LEDs, wind turbines, catalytic converters and smartphones. REEs have become highly sought after primarily due to the short supply and lack of production in North America. This has led to a number of significant Canadian and American government funding initiatives with the hopes of producing ore in the near future as only one operating REE mine (Mountain Pass, California) exists in North America.
Qualified Person
Technical aspects of this news release have been reviewed and approved by Stephen Wetherup, BSc., P.Geo., who is a Qualified Person as defined under National Instrument 43-101.
Citations:
Hulse, D. E., Malholtra, D., Matthews, T., & Emanuel, C. (n.d.). (tech.). NI 43-101 preliminary economic assessment round top project, 2019
Zagorevski, A., Dziawa, C., Friedman, R.M. and Mihalynuk, M.G., 2013. geology, u-pb geochronology, and geochemistry of the miocene pheno mountain complex, hoodoo mountain area, british columbia. British Columbia Ministry of Energy, Mines and Natural Gas, British Columbia Geological Survey Paper 2013-1, pp. 115-125.
Mihalynuk, M.G., Zagorevski, A., Cordey, F., 2012: Geology of the Hoodoo Mountain Area (NTS 104B/14W); BC Ministry of Energy and Mines, Open
About Etruscus
Etruscus Resources Corp. is a Vancouver-based exploration company focused on the acquisition and development of precious metal mineral properties.  The Company's assets include the Lewis Property in central Newfoundland, which is under option to acquire a 100% interest, and the 100%-owned Rock & Roll and Sugar properties comprising 33,639 hectares ("ha") near the past producing Snip mine in Northwest B.C.'s prolific Golden Triangle, including the recently staked Pheno claims totalling 5,411 ha. Etruscus has exploration properties in two of Canada's most active gold camps.
Etruscus is traded under the symbol "ETR" on the Canadian Securities Exchange, "ETRUF" on the OTC and "ERR" on the Frankfurt Stock Exchange.  Etruscus has 44,085,361 common shares issued and outstanding.
Company Contact
Fiore Aliperti, President & CEO
E: info@etruscusresources.com
T: 604-336-9088
W: www.etruscusresources.com
This news release does not constitute an offer to sell or a solicitation of an offer to buy any of the securities in the United States.  The securities have not been and will not be registered under the United States Securities Act of 1933, as amended (the "U.S. Securities Act") or any state securities laws and may not be offered or sold within the United States or to U.S. Persons unless registered under the U.S. Securities Act and applicable state securities laws or an exemption from such registration is available.
CAUTION REGARDING FORWARD-LOOKING STATEMENTS
This Press Release may contain statements which constitute 'forward-looking' statements, including statements regarding the plans, intentions, beliefs and current expectations of the Company, its directors, or its officers with respect to the future business activities and operating performance of the Company. The words "may", "would", "could", "will", "intend", "plan", "anticipate", "believe", "estimate", "expect" and similar expressions, as they relate to the Company, or its management, are intended to identify such forward-looking statements. Investors are cautioned that any such forward-looking statements are not guarantees of future business activities or performance and involve risks and uncertainties, and that the Company's future business activities may differ materially from those in the forward-looking statements as a result of various factors. Such risks, uncertainties and factors are described in the periodic filings with the Canadian securities regulatory authorities, including quarterly and annual Management's Discussion and Analysis, which may be viewed on SEDAR at www.sedar.com. Should one or more of these risks or uncertainties materialize, or should assumptions underlying the forward-looking statements prove incorrect, actual results may vary materially from those described herein as intended, planned, anticipated, believed, estimated or expected. Although the Company has attempted to identify important risks, uncertainties and factors which could cause actual results to differ materially, there may be others that cause results not to be as intended, planned, anticipated, believed, estimated or expected. The Company does not intend, and does not assume any obligation, to update these forward-looking statements.
Neither the CSE Exchange nor its Regulation Services Provider (as that term is defined in the policies of the CSE) accepts responsibility for the adequacy or accuracy of this release.