Vancouver, BC – July 25, 2023 – Etruscus Resources Corp. (CSE: ETR) (OTC: ETRUF) (FSE:ERR) (the "Company" or "Etruscus") is pleased to announce fire assay results from all eight drill holes completed during the Company's initial drill program (the "Program") at the Lewis Property (or "Property") in Newfoundland. All drill holes intercepted near surface anomalous gold with the highest grades encountered in the northeast striking, 1.4 kilometres (or "km") long Corsair gold trend. The Property is road accessible and is situated 5 km south of the Trans Canada Highway in the Gander Gold Belt, approximately 10 km west of New Found Gold's Keats Zone discovery.
Program Highlights:  
MP23-03 drilled 3 g/t Au over 17.3 metres (or "m") including 3.0 g/t Au over 4.9 m, demonstrating a broad zone of anomalous gold mineralization (Click here to view Cross Section);
MP23-04, located 120 m northeast of hole MP23-03, intercepted 2 g/t Au over 11.4 m including 3.4 g/t Au over 2.5 m. This is interpreted to be the same zone as encountered in hole MP23-03 representing real potential for gold mineralization between the two holes. These are the best gold intercepts to date on the Property with room for expansion (Click Here to View Plan Map);
All significant intercepts are within 100 m of the surface with all mineralization open to depth as well as along strike;
Due to successful results from the Company's Phase 1 Program, the Company has now completed the second anniversary payment under the Lewis option agreement and looks forward to a Phase 2 drill program in the coming months; and
Future drilling will seek to find higher grade shoots and expand the strike and depth of known mineralization.
Stephen Wetherup, VP of exploration, commented, "With all drill holes hitting near surface gold mineralization, the assays from our first ever drilling program in Newfoundland are a fantastic start to the development of this project. These results highlight to the market the existence of an additional, mineralized fault system adjacent to the renowned Appleton Fault with three major mineralized trends identified on the Property. Results confirm that these trends contain high to moderate-grade gold within a wider envelope of lower grade disseminated mineralization, differentiating us from many of the neighbouring vein style deposits."  He went on to finish, "These sparsely tested trends provide significant opportunity for higher-grade shoots and have already shown potential as near-surface bulk-tonnage gold targets. With Etruscus drilling less than 1,000 metres to date, we're excited for the Phase 2 program to continue advancing the project and building on the excellent work delivered so far."
Figure 1 – 2023 Assay Table
| | | | | |
| --- | --- | --- | --- | --- |
| Hole ID | From (m) | To (m) | Interval (m) | Au g/t |
| *MP23-01A | 43.50 | 54.00 | 10.50 | 0.63 |
| Including | 52.00 | 54.00 | 2.00 | 3.09 |
| *MP23-02A | 66.00 | 68.00 | 2.00 | 0.56 |
| MP23-03 | 25.70 | 67.00 | 41.30 | 0.65 |
| Including | 25.70 | 43.00 | 17.30 | 1.29 |
| Including | 38.10 | 43.00 | 4.90 | 2.98 |
| MP23-04 | 12.60 | 24.00 | 11.40 | 1.23 |
| Including | 16.50 | 19.00 | 2.50 | 3.39 |
| MP23-05 | 41.00 | 43.00 | 2.00 | 0.27 |
| and | 84.35 | 85.00 | 0.65 | 0.52 |
| MP23-06 | 56.00 | 59.00 | 3.00 | 0.76 |
| Including | 56.00 | 57.00 | 1.00 | 1.92 |
| MP23-07 | 48.50 | 67.70 | 19.20 | 0.39 |
| Including | 48.50 | 50.00 | 1.50 | 1.37 |
| and | 62.00 | 65.00 | 3.00 | 0.95 |
| MP23-08 | 10.00 | 37.00 | 27.00 | 0.23 |
| Including | 32.85 | 37.00 | 4.15 | 0.70 |
| Including | 32.85 | 33.35 | 0.50 | 3.71 |
*Holes MP23-01 & MP23-02 were abandoned due to operational issues
Corsair Trend
At 1.4 km in length, the gold mineralized Corsair Trend was previously established by Noranda in 1990 but failed to demonstrate the grades and width highlighted in this year's Program. Drill holes MP23-03 and MP23-04, collared within an 800 m gap along the northeast striking Corsair Trend, intercepted better gold mineralization than any previous drill hole on the Lewis Property, leaving significant room for further expansion. Multi- element analysis of the drill core has also revealed a well mineralized stibnite vein/breccia that returned 4.56% antimony (or "Sb") over a 1 m interval in MP23-04. The Canadian government defines antimony as one of a suite of critical metals needed for a competitive and sustainable economy, and for reference the Beaver Brook antimony mine, located 27 km southwest of the Property, has a reported current resource of 0.5 Mt at 4.17% Sb (Sandeman, 2018).
The Corsair Trend is a structurally controlled corridor with a strong chargeability anomaly related to elevated sulphide content including arsenopyrite, pyrite, and stibnite identified in drill core. The trend itself is likely correlative in geological timing with the structural deformation and northeast trends of New Found Gold Corp.'s Keats Zone Discovery. Follow-up drilling is necessary to define the full extent of the trend as it remains sparsely drilled and open in all directions.
Figure 2 – 2023 Drill Map in Plan View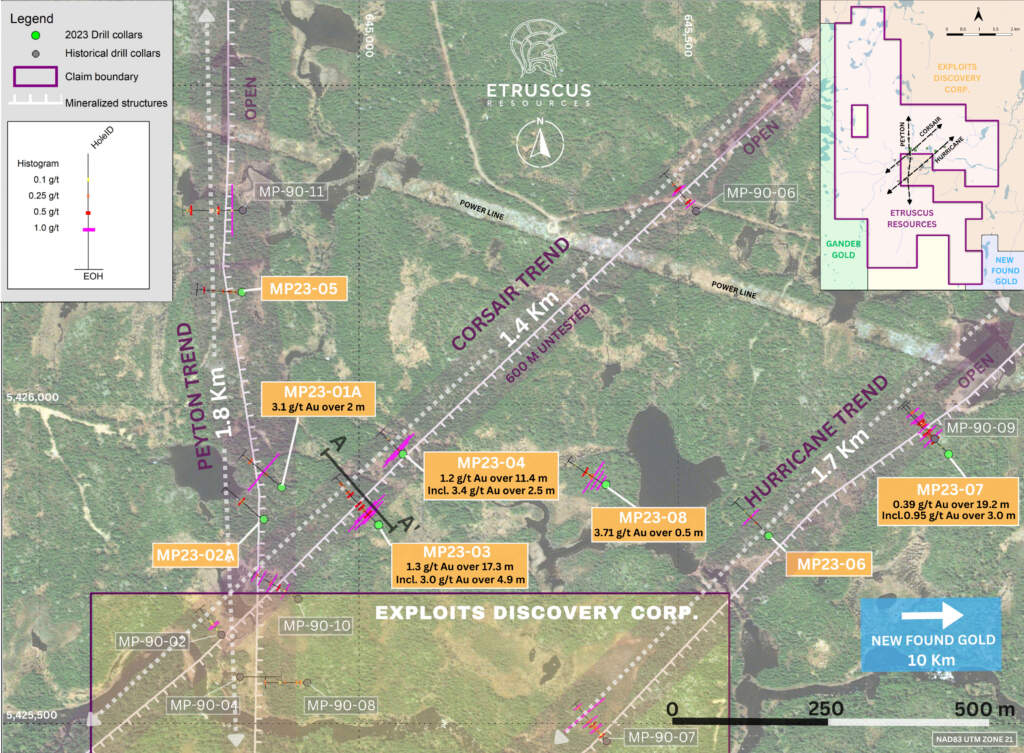 Hurricane Trend
The northeast striking Hurricane Trend is a chargeability anomaly that measures 1.7 km in length and strikes across Etruscus' and neighbouring Exploits Discovery Corp.'s claims with well mineralized intervals drilled on both sides of the Property boundary.  Drill hole MP23-07 was designed to target below the historic Noranda hole 9 providing geological and structural information enabling a better understanding of the mineralized Hurricane Trend. This northern most drill hole returned a broad 19.2 m zone of 0.39 g/t Au containing multiple anomalous gold samples and demonstrates an open system with significant room for expansion. Drill hole MP23-06, whilst intercepting anomalous gold, appears to have drilled north of the target where a 50 m step back to the south is expected to intercept the trend in future drill programs.
Peyton Trend
Drill holes 01A, 02A and 05 were primarily designed to target the Peyton Trend, a north-south striking chargeability anomaly identified in both historic and more recent IP surveys. All three holes intercepted anomalous gold values with a highlight of 3.1 g/t Au over 2.0 m in MP23-01A. Mineralization is similar to the holes drilled on the Corsair Trend, however, with lower amounts of sulphide and alteration being identified. Initial results suggest the best mineralized trends are northeast striking which may leave the Peyton Trend as a less significant structure for mineralization although further work is still needed to confirm this.
Next steps
The use of IP inversions has allowed the team to successfully improve on the work of previous operators and validates the technology as an important targeting tool on this unique Property. Identification of at least two parallel mineralized trends, each with over 1 km of strike length, provides significant room for expansion. With a shallow dip and mineralization coming to surface, the Company eagerly anticipates the follow-up work program to build on the results and unlock the Property's full potential.
About Etruscus
Etruscus Resources Corp. is a Vancouver-based exploration company focused on the acquisition and development of precious metal mineral properties.  The Company's assets include the Lewis Property in central Newfoundland, which is under option to acquire a 100% interest, and the 100%-owned Rock & Roll and Sugar properties comprising 28,270 hectares near the past producing Snip mine in Northwest B.C.'s prolific Golden Triangle.  Etruscus has exploration properties in two of Canada's most active gold camps.
Etruscus is traded under the symbol "ETR" on the Canadian Securities Exchange, "ETRUF" on the OTC and "ERR" on the Frankfurt Stock Exchange.  Etruscus has 44,085,361 common shares issued and outstanding.
QA/QC
The Company has adopted a rigorous quality assurance and quality control ("QA/QC") program to ensure best practices when sampling diamond drill core. At the Lewis Property, the Company's drill core is being assayed by SGS Canada Inc, which has facilities across Canada and globally and is independent of the Company. Core is securely transported from drill site to core facility where it is logged and sampled on average of 2 m per sample although geological constraints may vary length from 0.5-2.5 m. The samples are then half cut with one half sent to the lab and the other half stored in a secure storage facility 10 km away from the property. Once at the lab, samples are crushed to 75% passing 2mm fraction and a 250g split is pulverized to 85% and passes a 75-micron screen. The geochemical analyses were performed by SGS Canada using multi-element aqua-regia digestion ICP-AES package and a 30g fire assay with ICP-AES finish. SGS Canada Inc. is a provider of geochemical laboratory services for the exploration and mining industries and is an ISO 17025 (Testing and Calibration) and ISO 9001 (Quality Management System) accredited laboratory. In addition to the lab's internal QA/QC program, the Company inserted 10% lab certified standards, blanks, and field duplicates into the overall sampling stream.
Corporate Acknowledgment
Etruscus would like to acknowledge that certain financial support was provided by the Department of Natural Resources, Government of Newfoundland and Labrador, under its Junior Exploration Assistance Program. The Company expects to continue its participation in this provincial program as it conducts further exploration work.
Sources
Sandeman H.A.I. et al. 2018; Beaver Brook Antimony Mine Revisited: an update on operations and new structural and geological observations. Current Research (2018) Newfoundland and Labrador Department of Natural Resources Geological Survey, Report 18-1, pages 123-152.
Qualified Person
Technical aspects of this news release have been reviewed and approved by Stephen Wetherup, BSc., P.Geo., who is a Qualified Person as defined under National Instrument 43-101.
Company Contact
Fiore Aliperti, President & CEO
E: info@etruscusresources.com
T: 604-336-9088
W: www.etruscusresources.com
CAUTION REGARDING FORWARD-LOOKING STATEMENTS
This Press Release may contain statements which constitute 'forward-looking' statements, including statements regarding the plans, intentions, beliefs and current expectations of the Company, its directors, or its officers with respect to the future business activities and operating performance of the Company. The words "may", "would", "could", "will", "intend", "plan", "anticipate", "believe", "estimate", "expect" and similar expressions, as they relate to the Company, or its management, are intended to identify such forward-looking statements. Investors are cautioned that any such forward-looking statements are not guarantees of future business activities or performance and involve risks and uncertainties, and that the Company's future business activities may differ materially from those in the forward-looking statements as a result of various factors. Such risks, uncertainties and factors are described in the periodic filings with the Canadian securities regulatory authorities, including quarterly and annual Management's Discussion and Analysis, which may be viewed on SEDAR at www.sedar.com. Should one or more of these risks or uncertainties materialize, or should assumptions underlying the forward-looking statements prove incorrect, actual results may vary materially from those described herein as intended, planned, anticipated, believed, estimated or expected. Although the Company has attempted to identify important risks, uncertainties and factors which could cause actual results to differ materially, there may be others that cause results not to be as intended, planned, anticipated, believed, estimated or expected. The Company does not intend, and does not assume any obligation, to update these forward-looking statements.
Neither the CSE Exchange nor its Regulation Services Provider (as that term is defined in the policies of the CSE) accepts responsibility for the adequacy or accuracy of this release.